Painted Lady - Vanessa cardui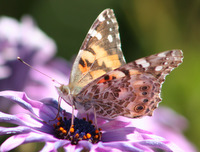 Painted Lady - Vanessa cardui
Overview
The Painted Lady butterfly is one of the most common butterflies in North America (and found all over the world). It belongs to a family of butterflies called brushfoots. Two other species, the American Lady and the West Coast Lady look similar but can be distinguished with field marks described in good butterfly field guides.
For more information about butterflies and other insects see the Insects section.
Migration
Unlike Monarch Butterflies, Painted Ladies seem to have sporadic mass migrations. They do migrate every year, but usually less conspicuously and in far fewer numbers. The mass migrations are probably triggered by bumper crops of food plants in the desert region. The insects are on their way north from their winter grounds on the Mexican border. The butterflies will begin to migrate south again in August, continuing through November.
Articles/Links about Painted Lady Butterflies