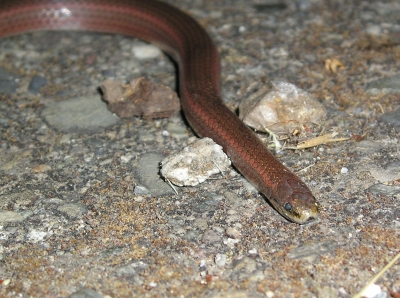 Sharp-tailed Snake - Contia tenuis
Sharp-tailed Snake - Contia tenuis
Overview
It is a small, reddish snake with striking black and white cross-lines down the underside. It is typically around 30 cm. long. There is a sharp spine at the end of the tail, which gives the snake its name. It seems to remain in a small home range and may have adapted to suburban habitats like backyards. It feeds on slugs.
Where to View
This is a secretive, nocturnal snake and hard to see.
They are found in Alameda, Contra Costa and Santa Clara counties.
We have seen it in our backyard in the East Bay Tri-valley area and have heard of other similar sightings. Our sightings have often been at night. Sometimes when some object in the backyard was picked up, a snake was discovered lying beneath it.
We have seen online reports from backyards in Martinez and Moraga.
Clifford & Karen recently (August 2014) sent in a sighting from the Fairway Glen neighborhood near Levi's Stadium in Santa Clara.
In 2010, this species was split into two - Sharp-tailed Snake (Contia tenuis) and Forest Sharp-tailed Snake (Contia longicauda). The latter is found only on the peninsula and the two species may be found in proximity in San Mateo, Sonoma and Santa Cruz Counties.
Articles and Links
Video