Big Sur
Fast Facts
Location: Highway 1 South of Carmel
Habitat: Coastal Scrub, Coastal Redwood Forest
Key Species: California Condor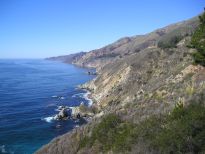 View Larger Map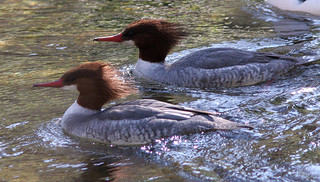 Common Mergansers in Big Sur river at Andrew Molera State Park Photo credit
Emily Hoyer
via Flickr
Big Sur is a region located along the central coast of California which is a truly extraordinary natural habitat. Combined with the amazing California coastal scenery, Big Sur has an amazing amount of wildlife. The Big Sur region incorporates several protected areas, including Point Lobos State Reserve, Julia Pfeiffer Burns State Park, and Andrew Molera State Park. This region also includes the Ventana and Silver Peak Wilderness area of Los Padres National Forest.
Andrew Molera State Park contains a bird-banding station and an interpretive center co-administered by the Ventana Wilderness Society, providing information about the wildlife and natural history of the region. The VWS website keeps up yearly tallies from the bird-banding station, helping keep track of the bird species of Big Sur.
Wildlife
Big Sur is home to a wide variety of animals. Mammals include Bobcat, Coyote, and Gray Fox, and also the very elusive Puma (Mountain Lion). Gray Whales can be seen off the coast during migration time - December through April.
As for birds, Big Sur can be a birdwatcher's paradise. For example, Andrew Molera State Park has over 350 different species of birds on its checklist, and every once in a while something rare or unusual turns up. Peregrine Falcon can be seen along the coastal cliffs. Brown Pelican, Brandt's Cormorant and other seabirds are very easy to see along the coast.
The real treat of the Big Sur region is that it is one of the few homes of the reintroduced California Condor. In 1987, the US Fish and Wildlife Service approved the capture of all wild condors in an effort to halt their decline at the hands of lead poisoning. Some 26 birds were captured. After a captive breeding effort led by San Diego Zoo and Los Angeles Zoo, the US Fish and Wildlife Service began reintroduction. The first condors were released in Big Sur in 1997 by the Ventana Wildlife Society. Today (2013), over 50 birds thrive in this area, and a few hundred birds in total, including captive birds and the ones reintroduced in other locations such as Pinnacles National Park, Arizona, and Baja California. The good news is that their numbers are growing slowly and steadily. Big Sur remains one of the best locations to see these magnificent birds.
Links
Videos

California Condor at Big Sur just off Highway 1

The Living Edens:
Big Sur California's Wild Coast
(from the PBS series)