The Northern California Coastline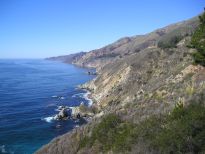 The Northern California Coastline is one of the important natural habitats of California. A short drive from the San Francisco Bay Area, the Northern California Coast sports many interesting species and an array of varying micro-habitats. Although the coast is continuous, there are certain locations and types of places that make coastal wildlife very accessible and easy to see. From coastal redwood forests, to the always interesting tidepools, the California Coast is one of the most interesting places to see wildlife.
While the Northern California Coast is definitely vast, there are several locations that you can go to see wildlife. The coastal cities of Santa Cruz (closer to the Bay Area), and Monterey (much farther down South), and even the coastal region of Big Sur (even farther South) provide excellent base camps for wildlife watching excursions. The amazingly scenic Highway 1, connecting all these coastal locations, offers panaromic views.
Before heading to Santa Cruz, a few locations North of Santa Cruz are worth visiting. Rancho del Oso and Waddell Creek provide excellent coastal riparian habitat, home to many birds, mammals, reptiles, and amphibians, such as Coast Range Newt and Bobcat. Further up North is Ano Nuevo State Park, which in December and January, is home to large numbers of Elephant Seals which are very easy to see.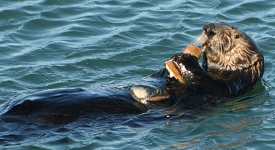 Sea Otter - Enhydra lutris
The city of Santa Cruz, very close to the San Francisco Bay Area, has many locations within the city to see coastal wildlife. A walk or drive along West Cliff Drive along characteristic coastal cliffs and beaches reveals many coastal species. Harbor Seals and Sea Otters can be seen frolicking in the kelp-ridden waters. Brown Pelicans often soar overhead with their humongous beaks, meant to scoop up fish and then squeeze the water out. Brandt's and Double-crested Cormorants, slim, black birds, can often be seen sitting on rocks or flying over the water. Western and Herring Gulls, often incorrectly lumped together as "sea gulls" are everywhere. West Cliff Drive eventually culminates in Natural Bridges State Park, a great place Monarch Butterflies in the Winter.
Driving South from Santa Cruz on Highway 1, one eventually comes to the city of Monterey. A trip into Monterey Bay might be worth considering - whale watching in Monterey Bay is excellent, making a lot of species of whales, dolphins, porpoises, fish, and birds very easy to see. Since Monterey Bay is vast, there are certain locations looking into Monterey that are of particular interest. The town of Moss Landing, characterized by the two giant stacks, provides an excellent location to see wildlife. Looking into the harbor from Moss Landing, one can generally see great and close-up views of Sea Otters and California Sea Lions. Ducks such as Surf Scoters and Red-breasted Mergansers can be seen floating along the surface. A short drive inland on Dolan Road, across from the harbor, reaches the Elkhorn Slough National Estuarine Research Reserve. During the Summer, Elkhorn Slough is a great place to see different types of small sharks and rays, most notably the Leopard Shark, as they come in to feed. Other sharks, such as Grey and Brown Smoothhound Sharks and rays such as the Bat Ray are also prominent.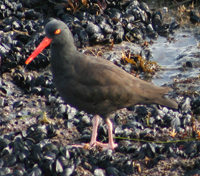 Black Oystercatcher - Haematopus bachmani
Also based around Monterey, the tidepools around Pacific Grove, and the coastal drive around Ocean View Drive and Sunset Drive along the Point Pinos lighthouse and Asilomar State Beach are also rich in wildlife. While tidepools may have once been a childhood fascination, they house many different species of wildilfe. Small fish such as the Tidepool Sculpin dart around. Hundreds of Blue-banded Hermit Crabs creep along the bottom of the tidepools. The occasional Solitary Green Anemone is perched on a rock. Looking around on the rocks, one can see the Black Oystercatcher, a medium sized black bird with characteristic orange beak and eye-ring.
Moving further down the Northern California Coast, along Highway 1, the Big Sur region should not be missed. Driving along the highway in Big Sur in Winter, one can look out into the ocean and sea the puffs out of the blowholes of Grey Whales. Among other coastal birds, the coastal scrub along Highway 1 is good habitat for the California Condor, once on the brink of extinction and now reintroduced. The coastal redwoods, and other habitats in Big Sur also provide great habitats for many bird, mammal, reptile, and amphibian species ...more .
Links
Videos
| | |
| --- | --- |
| Sea Otter at Moss Landing | California Condor at Big Sur just off Highway 1 |