Rancho Del Oso
Fast Facts
Location: Across Waddell Beach, Highway 1
Habitat: Coastal Freshwater Marsh, Riparian, Coastal Redwood
Key Species: Bobcat, Newt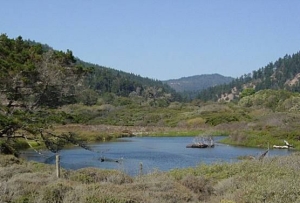 View Larger Map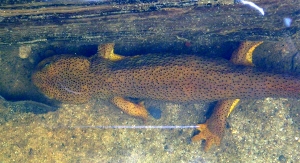 California Newt in Wadell Creek
Nestled along Wadell Creek, just off of Highway 1, lies one of the most beautiful, rich wildlife hotspots in California. Rancho Del Oso sports towering Monterey pines and second-growth redwoods, Douglas fir, poison oak, meadows and creekside alder trees home to a great diversity of watchable wildlife. Skunks, oppossums, and a resident bobcat prowl the grounds. In addition to mammals, a wide variety of birdlife, insects, and reptiles also inhabit this spectacular piece of Big Basin Redwoods State Park.
Its convenient location next to the coast makes Rancho Del Oso a valuable destination, as it combines the benefits of coastal wildlife along with the wildlife of the Redwoods forests, and creekside trees that lie along Waddell Creek. Furthermore, the Skyline-to-Sea trail which winds its way through Big Basin State Park reaches the sea at Waddell Beach, making Rancho del Oso a popular destination for hikers as well.
The Nature Center is open on Saturday and Sunday from 12 to 4 PM, but it is possible to visit this location even when the visitor's center is closed. The area around the visitor's center is filled with plants and flowers native to the area, including the Buckeye and the Coffeeberry, which are popular with birds. Also, many of the plants are labeled with their common and scientific name for identification.
Rancho del Oso is located about 18 miles northwest of Santa Cruz, and is accessible from Highway 1 (south of Ano Nuevo). The entrance is a dirt road which leads to the visitor's center, around which there is parking along the road. Most of the trails are accessible from around this area. From Rancho del Oso, you can access 3 camps easily, the Alder Camp, the Twin Redwoods Camp, and Camp Herbert all of which are under 3 miles away.
Wildlife
One of the key species that resides within Rancho Del Oso is the Bobcat. Driving in on the main pathway often treats viewers to great, and sometimes even lengthy encounters with the spectacular animal. It is not guaranteed, but there are good chances of spotting the Bobcat at Rancho Del Oso. Newts inhabit Waddell Creek's waters and you can even see them in summer.
Some species found here include:
Mammals: Bobcat, Merriam's Chipmunk, Western Gray Squirrel, Striped Skunk, Opossum, Black-tailed Deer
Birds: Special birds include Marbled Murrelet, Snowy Plover, Pileated Woodpecker, Northern Pygmy-Owl, Allen's Hummingbird, Pygmy Nuthatch, MacGillivray's Warbler. Detailed list is in the Santa Cruz county birding guide. ...link
Reptiles: Western Terrestrial Garter Snake, Pacific (Western) Pond Turtle
Amphibians: California Newt, Rough-skinned Newt, California Red-legged Frog
Fish: Tom Stienstra says "In spring be on the lookout for tiny fish in Waddell Creek. These are actually baby steelhead, or smolts, that have hatched earlier in spring."
Butterflies: Satyr Comma, Lorquin's Admiral, Umber Skipper
Banana Slug
This is also a good place to see wildflowers in spring and summer.
Links
Videos
| | |
| --- | --- |
| Overview of Rancho Del Oso | Bobcat at Rancho Del Oso |